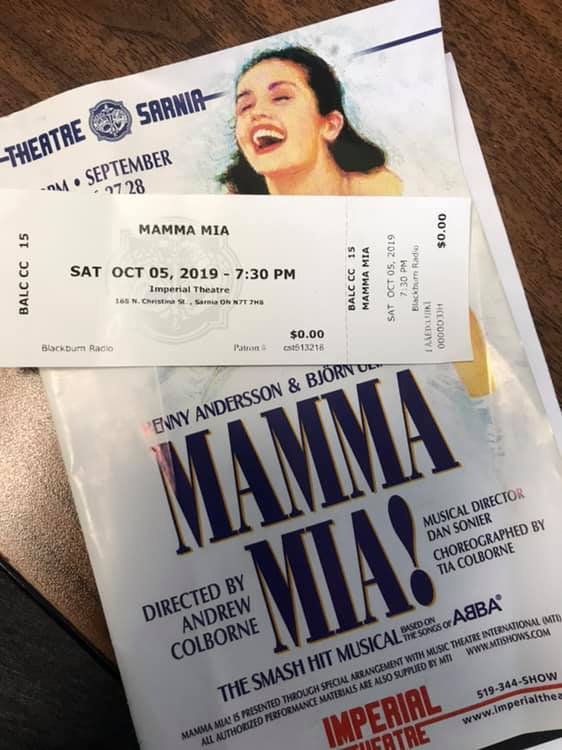 Sarnia Theatre's Latest Production Outstanding
Saturday night the staff at Blackburn Radio were treated to a night of local theatre, and it did not disappoint.
OK – wait – I have to say first, as a fan of the MOVIE Mamma Mia, there was some high expectations going in. My daughter and I have watched the Mamma Mia movie – with Meryl Streep and Amanda Seyfried – a million times, no exaggeration. We know the words and the songs by heart.
It's like reading the book before watching the movie.  You have an expectation of characters, and storylines that you have tucked away in your heart,  and no matter how good the movie, you WILL feel a little let down when it isn't exactly the same. You simply cannot compare the movie with a theatre production.  Similar but still very different.
There were a few songs in this production, not in the movie which surprised us.
A couple of really great scenes – I especially loved the one with the flippers and dive suits.  Well done on that and I"m sure not easy to take the stairs afterward.
This Sarnia production did not disappoint when it comes to talent. I was amazed and impressed.
For those that don't know – Mamma Mia tells the story of Donna. An independent woman living life on her terms, in the Greek islands, running a hotel all by herself.
She is preparing for her daughter Sophie's wedding with the help of two old friends.  Sophie, her daughter, secretly invites three men from her mother's past in the hopes of finding her father and having him walk her down the aisle.
All told through the songs of ABBA.
All the favourites. From "I Have a Dream" to "Dancing Queen", "Super Trouper", and my favourite "The Winner Takes It All" which makes me cry when I watch the movie, every single time.
The sold out crowd LOVED IT!  I had people singing all around me and for a few songs, I couldn't help myself either.  The energy was felt all through the theatre.
The cast was so talented.   Each taking on their roles brilliantly.
So many people coming together for this incredible production.  I can't imagine how you did it – but you did it well.
What made the night extra special was something new The Imperial Theatre is offering.
You can now book the Nova Room at the Imperial Theatre on a show night. Make it a special night – with friends, or co-workers, or clients.  Maybe a nice way to celebrate a birthday? Or staff Christmas party?
The night includes –

20 tickets to the performance

Private bar and bathrooms pre-show

Your own bartender

Popcorn for everyone

Insert in that night's brochure

Special mention in the preshow announcement before the performance

Catering for 20 people

Additional tickets available upon request and availability
For more information – contact Lyndsie Baxter at lbaxter@imperialtheatre.net